SAFETY STEWARD TRAINING
Details

Hits: 102
Mark Sommer will be conducting a Safety Stewards training class. The class will be hosted by the UT Tuners, and will be held at the University of Toledo, 1620 N. Westwood Ave, Room 2700, on Thursday, April 16, 2015 at 8:00 PM. Those with an interest or questions should e-mail Mark .
GLD SOLO & ROUNTABLE INFORMATION
Details

Hits: 132
Hello everyone,

this email is intended for the Regional Executives and SOLO Directors or Chairs as well as other interested people of the SOLO community.

There are 3 (three) attachments enclosed.

The first one is an article that was submitted to be published that gives a recap of the 2014 Great Lakes Division SOLO Series.  We have completed our 29th year of events and will be celebrating our 30th year in 2015.

Each of the Regions that participated in 2014 put on fantastic events.  The weather did not fully cooperate but everyone came through in good shape.

The second attachment is a Registration form for the Great Lakes Division Roundtable on March 14th in Findlay, Ohio, and the third is the schedule for the Roundtable.

Please share this with the members of your Region and post it on your Regions website.

Although the final arrangements have not been made yet, I want to inform you that Velma Boreen and myself will conduct a SOLO Seminar in the morning session and then Mark Sommers, the Divisional Solo Safety Steward will conduct a class for SOLO Safety Stewards in the afternoon.  This class will be for both new licenses as well as refresher courses for those needing them.

Also, 2014 Divisional SOLO Series Awards will be presented at the Roundtable.

In 2015 the Great Lakes Division is fortunate enough to have 6 (six) National SOLO Events scheduled in our areas.  We have 3 (three) PRO SOLO'S, 2 (two) Match Tours and 1 (one) Championship Tour event.  Please work your Regions schedules around these events if they are in close proximity to you so that your Regions members may attend.

Also, in 2015 we are celebrating the 30th anniversary of a SOLO Series in the Great Lakes with the Great Lakes Division SOLO Series.  All of the Regions are eligible to participate and are encouraged to host an Event in the Series.

I will not schedule any Great Lakes Division SOLO Series events against any of the National Events schedule. Regions that are hosting National Events are encouraged to also host a Divisional Event if they choose to.

On the date of June 13th & June 14th, 2015 the Saginaw Valley Region & the Lakes Superior Region are co-hosting an event in Brimley, Michigan.  These are 2 (two) tiny Regions of which I am a member of one Region and also will not schedule a Great Lakes Division Event on unless they would like it to be an Event.

As of today, I have received 2 (two) dates requests for 2015 for the Great Lakes Division SOLO Series.  They are as follows:

July 4th & 5th, 2015      Indianapolis Region    2 day Event    Grissom Air Base   Peru, IN

October 17th & 18th    Kentucky Region     NCM Motorsport Park  Bowling Green, KY

I have approved both of these dates with these Regions and we will fill in the rest of the schedule as the Date Requests come forward.

If your Region would like to participate, just select a date and let me know.

If I do not see you at the National Convention in February, I sure hope to see you in Findlay in March.

Thanks for your time and stay warm.

Ray Jason
Great Lakes Division SDC
NWOR CURRENT NEWS
Details

Hits: 245
First of all, you may or may not know that we lost one of our Solo sites for next season. We received a letter from Fiat Chrysler Automobile - Toledo Machining Plant late August that said
"As Chrysler continues to grow, and people are enjoying our products, are (sic) production volumes are also growing. With that, the number of planned weekend work in our forecast for next year is higher than it's been in recent memory. We have enjoyed the relationship we have had with you, but at this time cannot commit to any future races."
We fully understand TMP's position, and we wish to thank them for the past seven years that they have allowed us to use their parking lot.
Secondly, we wish to apologize for the delays in starting Event #8 at Owens last Sunday (9/14/14).
It seems that one of the local residents became annoyed with our presence and decided to sabotage our timing system by chewing through the finish cable. We have taken steps that hopefully this won't reoccur.
 Newly created Solo Work Chief Position - Gopher Patrol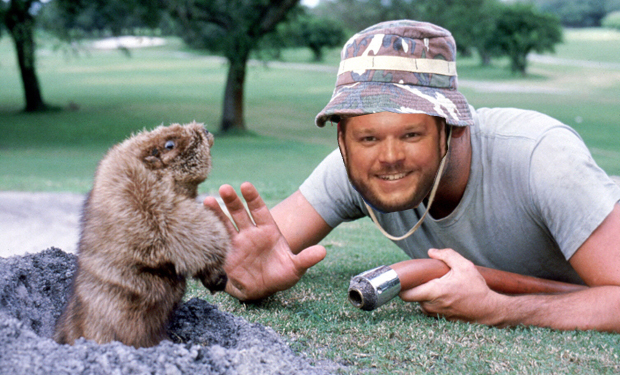 Once again, we apologize for the delay.